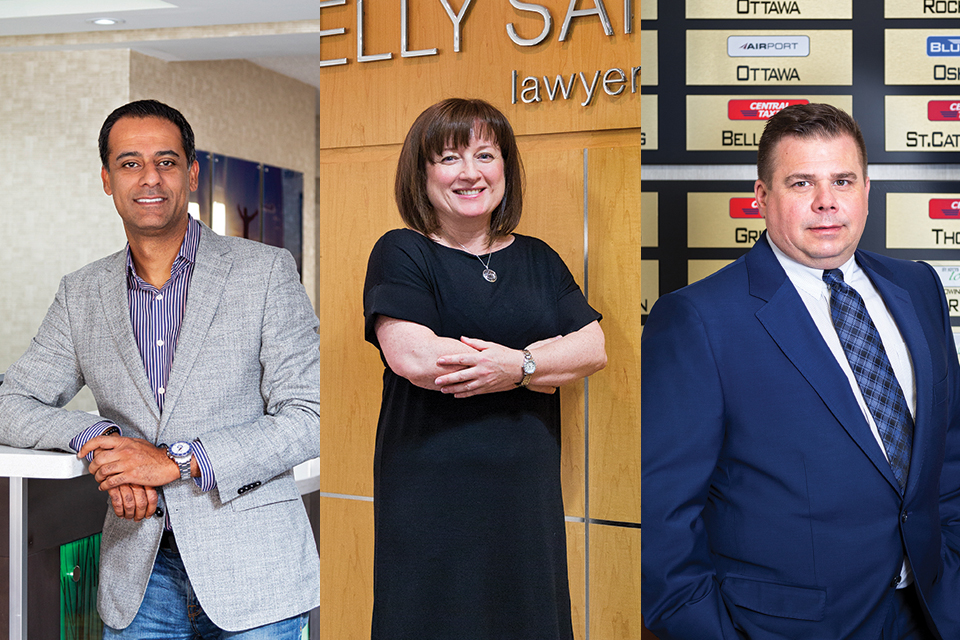 Meeting the demands of generational change
By Jeff Buckstein -Capital Magazine
GENERATIONAL CHANGE, COUPLED with the impact of newer technologies, is having a major impact on many Ottawa businesses.

"Technology-driven change is here. We can't ignore it. We have to learn continually how to harness and use it to improve the overall experience of not only our guests, but also our employees," says Fayez Thawer, managing director of Tasico Hospitality Group.

Tasico owns and manages three hotel properties, including two Days' Inn and a Best Western, in Ottawa. The company, with close to 400 employees, also owns and manages two hotels in Ajax, Ont., and another in the U.S., in Cincinnati, along with a convention centre and three restaurants.

"The days of putting a picture of a steak on a social media site are gone. You have to find ways of keeping your existing and new customers interested and engaged," Thawer stresses.

Tasico is also conscious of the impact generational change has had on the hospitality industry, which must cater to a wide customer base and multiple  generations – including 'millennials,' who are roughly 38 and younger; 'Generation X,' from ages 39 to 53; 'baby boomers,' from ages 54 to 72; and more senior Canadians, often referred to as 'Traditionalists.'

For example, while the millennial generation is known for being very tech savvy, members of Generation X have a reputation for being very value driven. Baby boomers appreciate the perks they receive through promotions such as loyalty programs, says Thawer.
Those who are tech savvy will often walk into a hotel and not converse in person, having already checked into their room on their handheld device. Management will send a welcoming text. Guests can also use an online app to request room service or receive details about where to attend the next day's business meeting.

But other guests, particularly those who are older, are apt to do things more traditionally, by checking in and requesting services personally by talking to staff.

"You have to make sure you're covering all these bases," Thawer stresses.

Kelly Sample, managing partner of the law firm Kelly Santini LLP, says her profession must also serve multi-generational clients.

"We can still deliver services the old way, completely paper-based, with meetings and phone calls, and regular mail. Or we can communicate using e-mail and other technologies," says Sample, who notes that even some older clients are becoming more comfortable working with technology.

She explains that her office is careful in balancing ease of client communications with professional obligations, including the need to preserve client confidentiality.

Kelly Santini has just under 100 employees, including about 35 who are lawyers. About 35 per cent of its staff is in the millennial age range, another 30 per cent are Generation X, and 35 per cent are baby boomers, Sample says.

"I think the biggest shift that's happening right now is there's a real emphasis on diversity in our recruiting. We've defined our diversity policy very broadly. That would include gender, sexuality, race, culture, and religion," she explains.

"We believe that the more diverse our pool of lawyers and employees is, the better our service will be and the better we will understand our clients' needs. Our client base is certainly very diverse," says Sample.

One of the biggest challenges for the next generation of lawyers and clients is going to be building a very strong personal relationship that will endure for decades, as the most senior generation of lawyers who are still practicing were excellent at cultivating, says Sample.

"With technology, where you see your clientless, and with the information that clients have at the click of a button, younger lawyers are still going to have to make it a priority to build the relationship [with] trust, so that the clients keep coming back," she stresses.

Tasico is also conscious of generational change with respect to its employees. For example, Thawer notes that senior management has changed from having a traditional semi-annual or annual review to provide more constant feedback to staff – in large part because the millennial generation prefers that type of communication.

In executive meetings, "we'll bring in some of our up-and-coming managers who we feel will, one day, fit at the executive level. They'll listen to the discussions, hear the plans. We create this level of transparency and inclusiveness," he says.

"Millennials love to share their opinions, and they'll give you some very unique insights," says Thawer. "You have to care enough to listen. If you're able to do that, eventually those millennials will become the leaders of your business."

Marc Andre Way, chief executive officer of Coventry Connections Inc., a dispatch service provider to 19 taxi fleets in southern Ontario, including Capital Taxi, Blue Line Taxi, and West-Way Taxi in Ottawa, says he has few millennials among his 160 staff.

"Attracting millennials has always been a challenge. It's not the type of work that seems to excite them," says Way, who notes that many younger workers, in particular, seek flexibility in their work hours and location.

"We don't work like that. We're on shifts. We're on schedules. There are quotas to meet [of] so many calls an hour, within that particular eight-hour shift. It's more like a fine-tuned manufacturing line. Our environment is very rigid," he explains.

Coventry has, however, innovated to better serve its customers of all ages, and provide them with more options when it comes to booking a taxi, including the development of a new app.

By making the hailing and reservation of taxis as simple as possible without having to speak to a person in the call centre, improving its service time by assigning the closest vehicle, and trying to make this whole process seamless to the end users, Coventry is employing strategies both to attract tech-savvy millennial customers and to compete against online competitors.

In adapting for the future, "our present focus is on technologies and how to use them to better our services," Way says.